Tom Fridays Market
Services are the

Best

Our mission is service. We are not meat cutters. Our experienced staff are butchers that carve from sides of beef for you. We offer the freshest, aged, no preservative certified Angus beef, farm raised pork, lamb, poultry (chicken and turkey) all natural items through out our coolers. We cut and trim to order! In store HOMEMADE items are featured every week. You can custom order any meat item form sides of beef to bone in or boneless favorites. When you add item quality to our experienced service you can be assured of purchasing the very BEST available in Pittsburgh.

Home Delivery is available.
We offer delivery service to our customers.
Stop in or phone your order and we will delivery your order the next working day. Fee $2.50 Minimum order $25.00*
(delivery area varies) **(includes our Freezer Meat specials)
Ring in any Holiday
Each special occasion throughout the year we feature Holiday favorites. Smoked & fresh Hams, Rack O Lamb, Farm raised Fresh turkeys and more.
We offer three FREEZER SPECIALS. You select the best choice for your budget and taste of assorted customer favorites.
IN STORE HOMEMADE items
Each week we prepare HOMEMADE dishes for your convenience. Stuffed Pork chops - Meat loaves, cooked Kielbossy & Kraut and many more.
Steaks and Roasts
Thin, thick, cut to order USDA Angus beef. Rack of Lamb, Leg O Lamb, Veal cuts, Crown Roast or Pork, we prepare to order.
Seafood
From Shrimp (all sizes), Lobster, Crab, Jumbo cod, shark and other varieties of fish is just one phone call away.
Catering
party trays to order, Sandwich rings, Potato Salad, Shrimp Trays, and the list goes on...
Custom made Trays
Let's get ready to PARTY!
Shrimp Trays, Meat Trays, Cheese trays, Pepperoni trays, Vegetable Trays, Sandwich Rings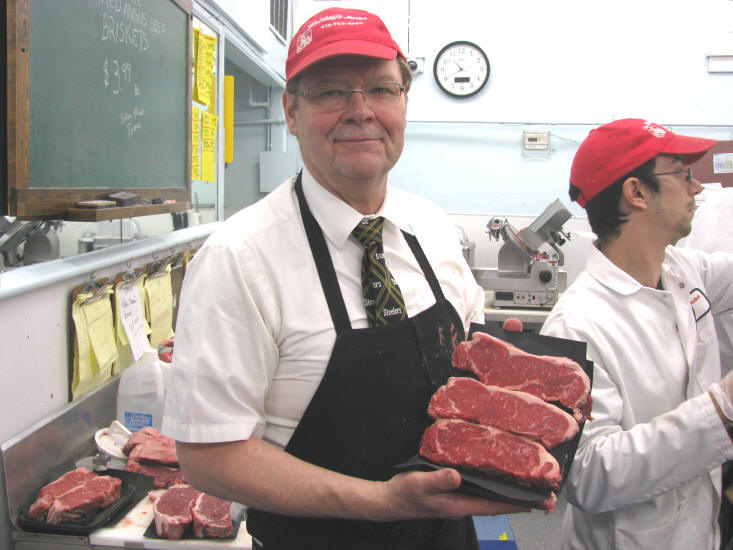 Cut to order
Regardless of the Beef, Pork, Lamb, or Poultry selection we always cut to order. We have many customers that find our ground meat the most flavorful.
R

eady made
Salads, meatballs, hoagies, stuffed banana peppers, Homemade pierogies, flavored burgers, Mac N' Cheese etc.